Based on 3 real cases from our clients.
Learning digital marketing strategies is essential in our current technological era. As an engineer or industry expert, you understand the significance of your work. But what is the point of your work if no one knows about it? This is where digital marketing & branding comes in.
It is important to be aware of the different marketing strategies that are available to your business. By implementing these strategies, you can ensure that your products and services successfully reach your target market and get potential clients.
This article might help you figure out how to promote your engineering business through digital strategies. Or do you want it faster? Please contact us to learn more.
What is digital marketing strategies, and why is it important for engineers and industrial professionals?
In today's digital world, a solid online presence is essential for any business that wants to succeed. Engineering companies are no exception. Engineering companies may reach a larger audience and ensure that the right people view their work by investing in digital marketing. In addition to enhancing awareness, digital marketing help to generate traffic and convert potential customers into leads. In today's competitive market, investing in digital marketing can be a highly effective way of growing an engineering business. 
To be a successful engineering company in today's market,  it is important to utilise digital marketing strategies & technologies to sell products and services. With so much competition, engineers and industry specialists must be adept at selling themselves online. Engineering companies can stay competitive in the market and generate high revenue by utilising digital marketing strategies instead of traditional marketing.
Here are the five most effective digital marketing strategies for engineers and industrial professionals.
Strategy #1  Company Logo

A company's logo is one of its most essential marketing tools. It is frequently the first thing that comes to mind when people think of a company, and it can be a powerful tool to increase brand awareness and recognition. A well-designed logo may help a company stand out from its rivals and convey a strong message about its values, products, and services. A logo is very crucial in establishing the brand identity of engineering businesses.
Engineering is a highly competitive industry, and a company's logo may help it stand out from the crowd. A logo may also portray a sense of professionalism and quality, which can be crucial in attracting clients and consumers.
Here are 3 tips to create an effective engineering logo: 
Incorporate A Symbol


To gain the trust of potential consumers, you must showcase your engineering company's expertise in the industry with an engineering logo that is as well-designed as your company's work. For example, the

Tesla

logo's cross-sectional "T" represents the cross-section of an electric motor.

Simplified The Logo Layout


Your engineering logo might appear on a variety of items, including a

website , business cards,

corporate uniforms, and massive machines. Make sure your logo's layout is flexible and scalable. Logos with complex patterns or colours that are difficult to replicate should be avoided.

Choose The Right Colour
Use darker, muted shades in your colour palette and match them with plain white background to create a mature impression in your engineering logo. Most engineering logos employ green or blue

in their colour palette to effectively reflect their brand.
Case Study 1     V-Green Engineering

A well-designed logo is one of a company's most valuable assets. That's why our team of designers put so much thought into the logo for V-Green Engineering. We wanted to design a logo that was instantly identifiable and reflected the company's dedication to environmental sustainability. To achieve this, we used a mix of green and blue in the logo's color palette to give the impression that the company is in the technical or engineering field. By employing the letter "V" as a primary element in the logo, we were able to harness the power of visuals to attract the attention of potential clients. We are pleased with the final result and we believe that it truly reflects the high-quality service provided by V-Green Engineering.
Strategy #2  Website
Websites are essential for engineering companies for a variety of reasons. They can be used to highlight a company's work, attract new clients, and keep existing clients up to date on the company's products and services. Furthermore, websites may be an effective tool for marketing and public relations.
A website for an engineering company should be well-designed and user-friendly. It should accurately reflect the brand and values of the company. The website should also be updated regularly with new information, images, and videos. A well-designed website may assist an engineering business in distinguishing themself from their competitors. It can also help to build trust and credibility with potential and existing clients.
Here are the 2 Must-Have features in your business website 
Attractive Landing Page
According to studies, the typical visitor will only wait three seconds before clicking away from a website that is taking too long to load. As a result, your website must load as quickly as possible to keep your visitors' interest. The more graphics and content you put on your site, the slower it will be overall. To combat this, you'll need to research the best technique

for keeping your website's speeds and interests

high.


You can download the landing page guideline

here.
Responsive Design (Mobile Friendly)
With over 60% of people

now using their mobile phones as their primary way of exploring the internet, having a mobile responsive website is critical for any business that wants to stay competitive. A mobile responsive website has been designed to look great on every dimension of a device, from desktop computers to smartphones.
Case Study 2     LTP Engineering
LTP Engineering is one of our successful examples of a website driving traffic and enhancing their online presence. LTP Engineering is a well-established engineering metalworking specialist with 40 years of industry experience. They reached out to Rebrand Malaysia to revamp their website to improve their brand recognition. Our team used the company's core colours of dark green and silver as the main foundation for the overall website design. With the newly crafted website, conversion rate and traffic have seen an increase, solidifying LTP Engineering's online presence. We're proud to have played a role in assisting this long-standing company in continuing their success story.
Strategy #3 Company Profile

A company profile is a professional overview of a company's history, recent developments, current status, and major projects. Engineers and industry experts frequently utilise this sort of marketing material while exploring new prospects or evaluating possible partners.
A well-written company profile might help you gain a competitive advantage in the employment market or attract new clients.  It should be clear, concise, and informative, giving audiences a strong idea of what your business does and what distinguishes it.
5 elements that should include in your company profile:
About Us


Give a brief overview of your company in the company profile.

Mission & Vision


Use mission and vision to reflect your company's

goals and beliefs.
Product & Service


Describe your products and services in detail. It would be very helpful for your potential clients so they have a better understanding of the product and service provided by your company.

Award & Recognition


Let your audience understand your position in the market. This is the most important step to differentiate yourself from other competitors in the market. Display your

industry recognition to acquire the audience's trust.
Contact Us
Contact information can help people to take action on your profile. Make sure you have listed the following information in your company profile:
– Phone Number
– E-mail Address
– Website URL
– Office Address
Case Study 3     Warisan Jaya Marketing
Warisan Jaya Marketing (WJM) is a well-established construction company that specialises in road marking. WJM chose to establish a corporate profile to better portray their brand and services. Our team of designers chooses blue and orange as the key colours to complement their corporate logo. We proposed an engineering style for the general design of the company profile to showcase their business because they are in the construction industry. In addition to detailing their road marking services, we also assisted WJM in highlighting the additional items they offer in their company profile. By having a company profile, WJM will be able to effectively communicate their brand identity and services to potential clients.
Strategy #4  Google Ads
Digital marketing is becoming an increasingly significant tool for businesses across many industries, including the engineering industry. According to studies, 97 percent of buyers go online to explore, study, compare, and educate themselves before making a final purchase decision. 
Whether your business is in manufacturing, construction, or engineering, Google Ads can be an effective marketing tool to help you reach new audiences and grow your business by creating targeted advertising and efficiently utilising keywords. Google Ads allows you to create ads that target specific demographics, interests, and even locations. This ensures that your ad reaches the right people at the right time, increasing your chances of conversion. 
There are 3 Google Ads Strategies for most engineering companies.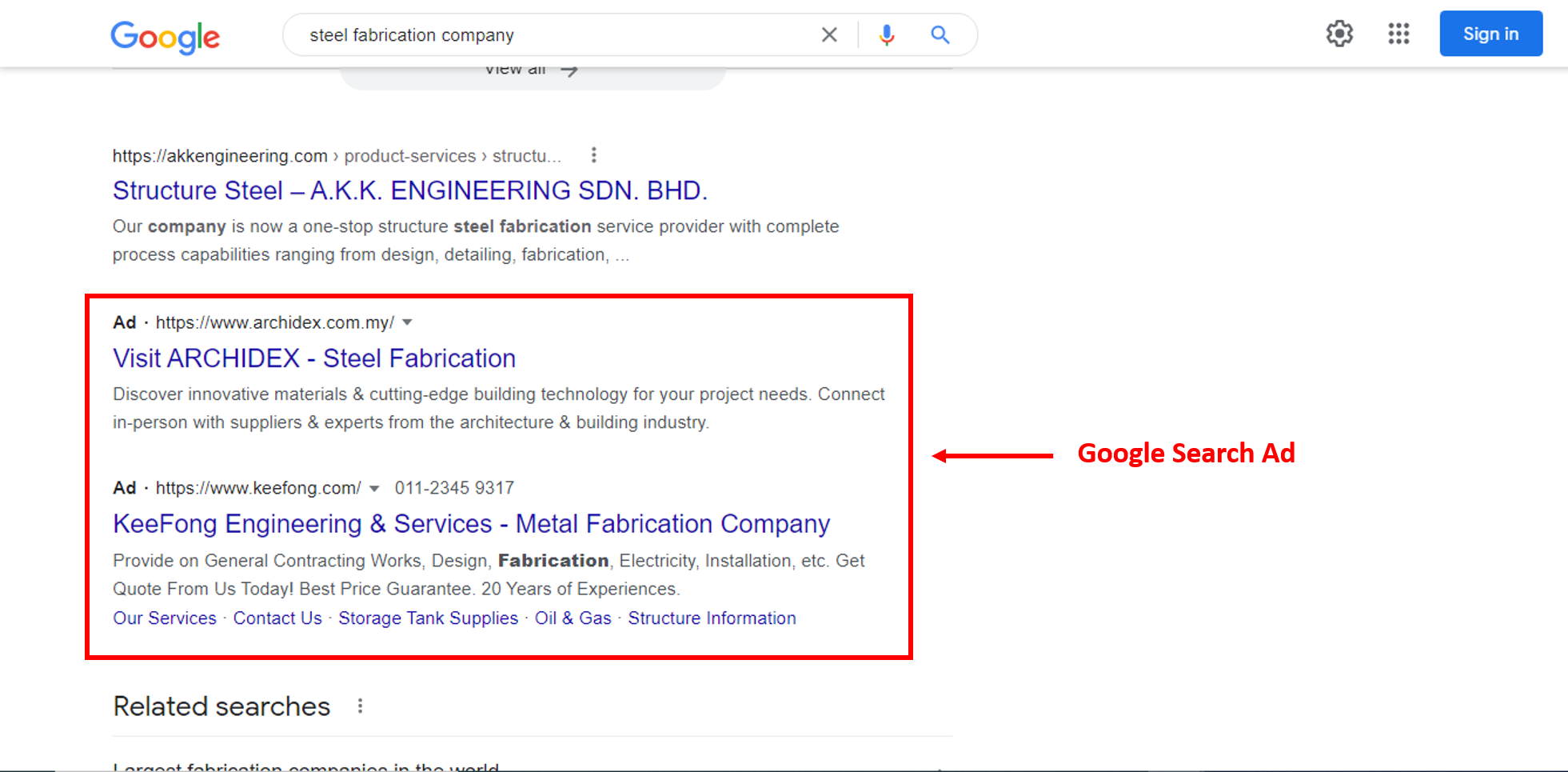 Google Search Campaign


Google Search Campaign is one of the best options for service-based businesses. It allows us to display text ads based on

targeted keywords.

This campaign is suitable for the engineering industry since their market is niche and specific. This strategy generates the

majority of potential leads

since search advertising only appears to those who are looking for engineering-related services. Overall, a search campaign is an essential tool for any engineering company looking to generate leads and expand their business.

Google Display Campaign


Google Display Ads showing your ads on the 3rd party website to build familiarity for your brand. This can serve as a basis for them to click on your ads when they perform Google searches for engineering services linked to your business. Google Display Network will show visual image ads to your target market wherever they are online.

Remarketing


Even if you drive a lot of visitors to your website, this does not guarantee a high conversion rate. In fact, in the engineering industry, the expenses involved in getting an engineering service are high. Therefore, visitors might take some time to research before submitting an enquiry form. This is where remarketing comes in. Remarketing is a powerful tool by focuses on getting users back to your site who are already interested in your product or service and increases the chance of getting a conversion from them.
In conclusion, Google Display Ads can increase your business' brand awareness by displaying your ad on another website. When someone looks for a service related to your business, they will initially click on your company name since they already remember your business name from the display ad. If the audience has already visited your page but hasn't made a final decision or has forgotten your business, Google Ads may still assist your business in remarketing to previous website visitors. All of these digital marketing strategies serve as a funnel to assist your business in getting prospective leads from your target audience group. 
Strategy #5 Search Engine Optimization (SEO)
Search Engine Optimization (SEO) digital marketing strategies for engineering businesses can help to simplify the value that you can provide your clients by employing keywords that clients are likely to search for in Google to get your website to appear on the first page. SEO is a powerful tool to help your business appear prominently on search engine results pages (SERPs). 
By optimising your website for relevant keywords, you may enhance your chances of appearing in the top results for searches connected to your business. Furthermore, a well-optimized website may raise your click-through rate (CTR) and organic traffic, both of which can lead to increased business opportunities.
While there are several aspects that contribute to SEO, some of the most significant include choosing the right keywords, creating quality content, and developing backlinks. You can increase your online presence and attract new clients and projects by taking the effort to optimise your website for SEO.
If you want to check out how well your website performs in terms of SEO, you can check out this tool here. 
Digital Marketing Strategies
Your audience is online. Your engineering business needs to be as well. 
As the engineering industry becomes increasingly competitive, companies need to have a strong online presence in the market. This involves having a professionally-designed logo, website, and company profile, as well as leveraging digital marketing strategies like Google Ads and SEO strategies. By taking the time to develop a solid marketing plan, you will position your company for success in the competitive engineering industry.
Need marketing assistance for your engineering business? We can help you. 
We hope you now have a better understanding of effective marketing strategies for your engineering business.
Rebrand Malaysia is a one-stop digital branding agency based in KL and Ipoh. Our team specializes in Web Design, Digital Marketing, and Branding. We have successfully helped around 100+ clients from various industries to transform their business through online marketing strategies. Get in touch to learn more.
By the time you read this, it indicates you're ready to stand out. Here is a present from us to celebrate your first steps!
At Rebrand Malaysia, we value your patronage and appreciate that you took the time to read one of our article. We hope that you found it inspiring and informative as we are striving to provide the latest business insights and trends in the digital marketing landscape that Malaysian Businesses should not miss.
The landscape of marketing is ever changing with new technologies and platforms emerging frequently. It can be challenging for businesses to keep up with the latest trends and adapt their marketing strategies accordingly.
Rebrand Malaysia specializes in Web Design / digital marketing solutions including web design, ecommerce, digital marketing, content writing, SEO, domain and hosting. We've successfully helped more than 250+ clients within Malaysia & Singapore in achieving their business goals and objectives.
Check out our portfolio: www.rebrand.com.my/portfolio
Get a FREE 30-minute consultation with Rebrand Malaysia Now!
Subscribe to our newsletter to always be up-to-date with the latest online marketing trend!
Call us at : 011-3957 0709
Email us at: [email protected]
WhatsApp: https://wa.link/a2qbik
Latest posts by Clement Ng
(see all)